LOCAL ATTORNEY INDICTED ON 2 COUNTS OF ARSON AND DUI MAIMING
March 3, 2017
The Tishomingo Sheriff's Department and the Iuka Police Department have been conducting a joint investigation into the April 2015 fires that occurred at a local attorney's office and then subsequently the private residence belonging to the attorney. The Iuka Police Department had been working an ARSON INVESTIGATION into the building of TACEY CLARK LOCKE PLLC, located on Eastport Street in Iuka. During the course of this investigation, the Tishomingo Sheriff's Department were also conducting an ARSON INVESTIGATION of the personal residence of TACEY CLARK, which was located in the Mill Creek area of Tishomingo County.
While both Iuka Police and Tishomingo Sheriff's Department were actively working the ARSON of both the home and the office building, TACEY CLARK was involved in a vehicular accident in the City Limits of Iuka. This accident was the result of TACEY CLARK causing severe injuries to the other motorist who was driving his motorcycle at the time of the accident. Iuka Police arrested TACEY CLARK and charged her with DUI MAIMING.
On March 2, 2017, a special GRAND JURY was requested by the 1st Judicial District Attorney's Office to hear the evidence of both the ARSON cases and the DUI MAIMING. This special GRAND JURY heard all the evidence and indicted TACEY CLARK on the following:
TACEY JUNE CLARK, 53-year-old, white female of 1938 HWY 25 Tishomingo, Mississippi was officially charged with COUNT #1 – ARSON OF A DWELLING, COUNTY #2 – ARSON OF A BUILDING, DUI MAIMING. Bond was issued at $20,000 total. CLARK was arrested and brought to the Tishomingo County Jail where she was able to make bond. CLARK will be formally arraigned on March 9, 2017 at the Tishomingo County Courthouse.
Sheriff John Daugherty would like to thank Iuka Police Chief Randy Stringer and his officers for their assistance in the cooperation of this unique and difficult case.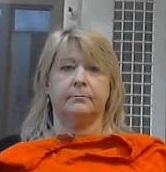 TACEY CLARK