IUKA MAN ARRESTED FOR DOMESTIC VIOLENCE
April 20, 2017
On April 19, 2017, the Tishomingo Sheriff's Department received a call from 911 that a woman was hit by a vehicle in the CR 156 area of Tishomingo County. Deputies arrived on scene and witnessed first responders treating the victim. The Victim informed the deputies that she was having an argument with her husband and as he was leaving in his truck, the Victim stated that her husband's truck tire ran over her. The Victim sustained some serious injuries and had to be flown by helicopter from CR 156 to the "Med" at Memphis, due to it being a trauma center. The Victim sustained injuries to her back, hip and possibly sustained a broken pelvis. Information was released to other local law enforcement agencies on the description of the husband and his pickup truck. Tishomingo Police Department located the husband and the truck at a residence at the corner of 2nd Street and Madison Street in Tishomingo.
Deputies arrived on scene with the Tishomingo Police Department and transported the husband to the Tishomingo Sheriff's Department. Once there, the husband admitted to being in a verbal argument with his wife and as he was trying to leave, the husband states his wife jumped in the back of his truck. The husband then stated his wife jumped out of the bed of the truck and began hitting the truck with her fists. The husband stated to law enforcement that he "hit the gas" to leave and saw his wife running beside the truck. He then noticed his wife sitting on the ground. The husband stated that he did not know that he had "ran over" his wife at this moment.
TYLER TREADWAY, 30-year-old, white male of 15 CR 156 Iuka, Mississippi was officially charged with DOMESTIC VIOLENCE (AGGRAVATED ASSAULT). TREADWAY remains in custody at the Tishomingo County Jail awaiting bond to be set by Justice Court. Sheriff Daugherty states that this case will be presented to the next available Grand Jury for their consideration.
Sheriff John Daugherty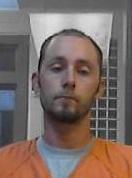 TYLER TREADWAY