TISHOMINGO SHERIFF'S DEPARTMENT RESPONDS TO A SHOOTING
July 14, 2017
On July 14, 2017, the Tishomingo Sheriff's Department receives a call of a person that had been brought to the North Mississippi Medical Center – Iuka, with a gunshot wound to the arm. Sheriff officials learned that the alleged shooter was still at the residence, which is located at 1309 Beachum Road, right outside the city limits of Iuka.
The Victim, 34-year-old, Anthony Pruitt,of the same residence, was flown to the North Mississippi Medical Center – Tupelo for treatment of his injuries. The shooter, Casey Pruitt, 25-year-old white male who also is the brother of the Victim, was arrested at the residence without any issues. The weapon was also recovered and collected.
Sheriff Daugherty stated that this incident is under investigation and CASEY PRUITT will be processed and charged.
Sheriff John Daugherty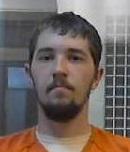 CASEY PRUITT