BURGLARY ARRESTS MADE OVER EASTER HOLIDAY
April 3, 2018
The Tishomingo Sheriff's Office recently made some arrests in connection with reported burglaries at the Mill Creek Marina. During the past several days, sheriff's officials had been taking reports of several items that had been stolen from the water vessels that were staged at the marina. In the early morning hours of Friday, March 30, 2018, Tishomingo Sheriff's deputies conducted a traffic stop on a pickup truck in the city limits of Iuka. During the course of the traffic stop, several firearms were in the vehicle as well as a "wig" and a camouflage gillies suit. The driver of the vehicle was recognized as a suspect in a recent theft of farming equipment that had recently been arrested. The deputies knew of the recent incidents at Mill Creek Marina and detained all the individuals in the vehicle.
After further investigation, a PERMISSION TO SEARCH was issued on both of the Suspect's residencies in Prentiss County. Sheriff John Daugherty stated that his deputies and investigators were able to recover everything that has been reported stolen. Those that were charged are listed as follows:
MARK ANTHONY MICHAEL, 43-year-old, white male of 252 CR 1021 Rienzi, Mississippi was officially charge with 7 counts of BURGLARY OF WATER VESSELL. MICHAEL's bond was set by Justice Court at $150,000. Currently the Tishomingo Sheriff's Office has filed paperwork with the District Attorney's Office to have MICHAEL "HELD WITHOUT BOND" due to being out on a previous Felony bond.
JARET RAY TAYLOR, 46-year-old, white male of 342 CR 1251 Booneville, Mississippi, was also officially charged with 7 counts of BURGLARY OF WATER VESSELL and 1 count of POSSESSION OF FIREARM by CONVICTED FELON. TAYLOR's bond also was set by Justice Court in the amount of $150,000.
Sheriff Daugherty would like to thank the Iuka Police Department and the Prentiss County Sheriff's Office in their assistance in this case. Sheriff Daugherty would also like to let the public know how appreciative he is of his patrol deputies being proactive in situations like this, "You never know what that deputy is going to come across every time a traffic stop is made. I am very fortunate to have officers like this not only working for this department but protecting Tishomingo County as well".
Sheriff John Daugherty
| | |
| --- | --- |
| | |
| MARK ANTHONY MICHAEL | JARET RAY TAYLOR |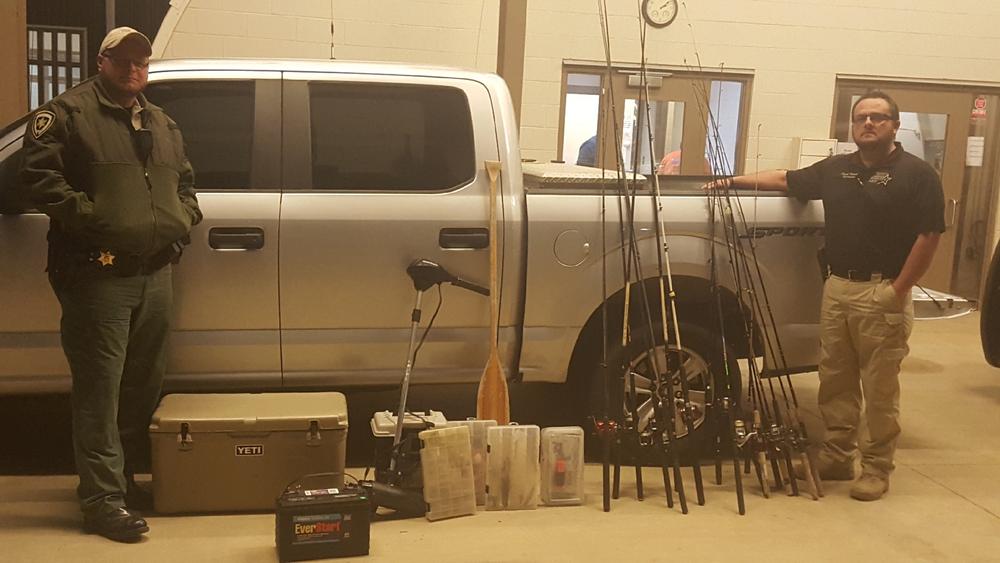 Pictured above: Deputy Thomas MyNatt (left) and Investigator Joseph Marlar (right)
Items recovered from the Suspects that was stolen at Mill Creek Marina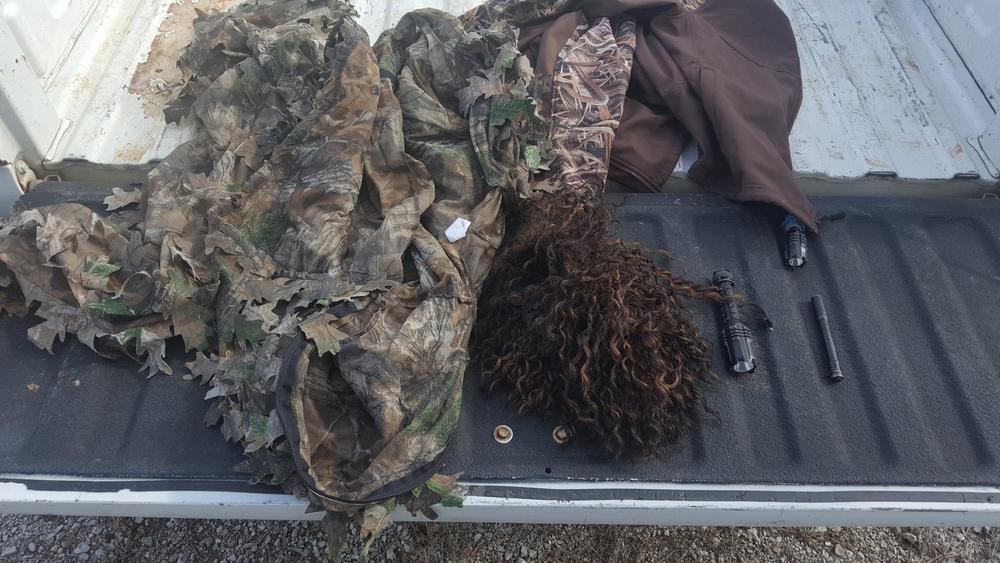 Pictured above: Camouflage Gillie Suit, Brown "Wig" and three flashlights
Clothing Items used by the Suspect(s) during the burlgaries