TISHOMINGO OFFICIALS MAKE FINAL ARREST IN TRACTOR THEFT
April 11, 2018
On April 7, 2018, Tishomingo Sheriff's officials received word that a person that had an OUTSTANDING ARREST WARRANT, was staying at the Victorian Inn in Iuka off of HWY 72 West. Tishomingo Sheriff's deputies as well as Iuka Police Department and Mississippi Department of Corrections located the wanted individual and was arrested. The arrest was based on an incident that was filed on February 11, 2018 with the Tishomingo Sheriff's Office pertaining to the theft of some farm equipment.
Tishomingo Sheriff's investigators have already arrested and charged two others with their part in the crime. MARK ANTHONY MICHAELS and a DUSTIN TYLER "DOUGHBOY" KING, were previously arrested and have made bond on the charges.
JOSEPH BREWSTER RHODES, 37-year-old white male, of 359 CR 513 Rienzi, Mississippi was officially served with the ARREST WARRANT for GRAND LARCENY. RHODES bond was set at $5,000.00 by Justice Court. However, RHODES is also currently on probation with the Mississippi Department of Corrections for previous felony crimes and also has an ARREST WARRANT from Prentiss County for GRAND LARCENY as well.
RHODES remains in the custody of the Tishomingo County Jail.
Sheriff John Daugherty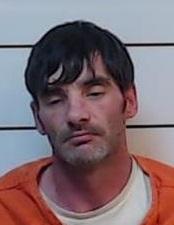 JOSEPH BREWSTER RHODES