SHOOTING IN THE VALLEY GROVE COMMUNITY
IUKA, MS June 17, 2016: On June 16, 2016 at approximately 2042 hours (8:42 pm), the Tishomingo Sheriff's Department received a 911 transfer call from a residence on County Road 993 in Tishomingo County. The caller advised that there had been a shooting around the area of 713 CR 993. The Victim made it to another residence where another 911 call was made pertaining to the shooting.
The Victim, Mark Lovelace, a white male, approximately 43 years of age from the Tishomingo area was shot approximately three (3) times with a .20-gauge shotgun. Tishomingo Sheriff deputies arrived on scene and after securing the scene, physically removed the Victim to another location where EMT's could safely transport the Victim to an awaiting helicopter. The Victim was then flown to the North Mississippi Medical Center – Tupelo for his injuries.
MICHAEL ALLEN BARNES, 38-year-old white male of 713 CR 993 Belmont, Mississippi has been officially charged by the Tishomingo Sheriff's Department with the following charges:
(1) POSSESSION OF FIREARM BY CONVICTED FELON
(2) AGGRAVATED ASSAULT (EXTREME INDIFFERECE TO HUMAN LIFE)
BARNES is still awaiting bond to be set on this matter by Justice Court.
Sheriff Daugherty stated he would "like to thank" all the agencies that came and assisted his department during this initial investigation. The Sheriff continued by wanting to thank all the law enforcement agencies in Tishomingo County AS WELL as agencies with the State of Mississippi.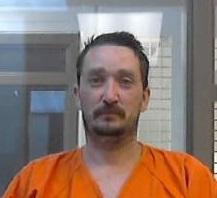 MICHAEL ALLEN BARNES