PADEN MAN CHARGED WITH MANSLAUGHTER
August 17, 2018
The Tishomingo Sheriffs Office has officially charged KEITH ANTHONY LETSON of the Tishomingo/Paden area with MANSLAUGHTER. The charge stems from an incident that occurred in May 2017 where LETSON was involved in an altercation with a Harry Rodman Thomas III. Thomas sustained serious injuries from the altercation and later died after several days spent in intensive care at the North Mississippi Medical Center – Tupelo. The body was then sent to the Mississippi Medical Examiner and the findings were finally released from that office, listing the death of HARRY RODMAN THOMAS III as a homicide. An ARREST WARRANT was then issued for LETSON and LETSON was located at a MDOC facility in Greenwood, Mississippi. LETSON was then brought back to the Tishomingo County Jail and served with the WARRANT.
KEITH ANTHONY LETSON, 38-years-old, white male, of 15 Railroad Avenue Tishomingo, Mississippi was officially charged with MANSLAUGHTER. LETSON's bond was set by Justice Court at $20,000.00. LETSON is currently on probation with the Mississippi Department of Corrections and formal charges with the MDOC are pending.
LETSON will be presented to the next Grand Jury when it meets in Tishomingo County. Sheriff Daugherty would like to thank the District Attorney's Office in their assistance with this due to the nature of the case. Sheriff Daugherty would also like to thank the family of the deceased with their patience shown during this long process.
Sheriff John Daugherty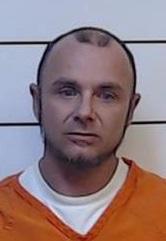 KEITH ANTHONY LETSON