BLUE MOUNTAIN MAN CHARGED FOR BURGLARY IN TISHOMINGO COUNTY
September 7, 2018
On September 3, 2018, Tishomingo Sheriff deputies took a report from a home owner pertaining to his residence being burglarized on CR 78, around the Ridge Road area of the County. The home owner informed the deputies that several thousand dollars' worth of tools and other items were taken from the home that he was remodeling. Deputies learned from speaking with eyewitness in the area, that a blue sedan being driven by a black male with a shaved head and staples in the head was seen sitting at the Complainants home before later driving away. The Suspect was apprehended the following day in Booneville by the Booneville Police Department. Tishomingo Sheriff's Office went and brought the Suspect to the Tishomingo County Jail. Several items were recovered by the Booneville Police when the Suspect was detained and was later identified as some of the stolen items from the home owner.
JEROME TERELL HALL, 33-year-old, black male of 106 HWY 2 Blue Mountain, Mississippi was officially charged with BURGLARY OF A DWELLING. HALLS' bond was set by Justice Court at $20,000.00. HALL also has a "hold" placed on him by the Itawamba County Sheriff's Office.
Sheriff Daugherty would like to thank the Belmont Police Department Investigator Donald Thomas, Fulton Police Department, Booneville Police Department, and the Itawamba County Sheriff's Office, for their assistance in this case. More arrests may be forthcoming in this case.
Sheriff John Daugherty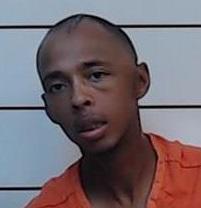 JEROME T. HALL