PURSUIT LEADS TO WRECK
November 1, 2018
**UPDATE** Tishomingo Investigators have officially charged PAUL ERIC ROPER with a FELONY charge. ROPER also has two other outstanding WARRANTS for his arrest. Please see the below Press Release for the updated information pertaining to ROPER.
---
October 31, 2018
**UPDATE** Tishomingo deputies have arrested PAUL ERIC ROPER, 32-year-old white male formerly of Batesville, Mississippi, in connection to the pursuit on October 30, 2018. ROPER, who has outstanding WARRANTS from other jurisdictions, was found hiding in an abandon home in Burnsville by deputies. Charges will be released at a later time by the Tishomingo Sheriff's Office as the investigation continues.
---
On October 30, 2018, Tishomingo Sheriff deputies were involved in a pursuit of a vehicle that was driving erratically through Burnsville. Deputies began attempting to stop the vehicle in Burnsville which the vehicle refused to stop, and began trying to elude the deputies. The deputies lost sight of the vehicle shortly after pursuing the vehicle and ended the pursuit. While in the area looking for the vehicle, deputies found the vehicle wrecked on HWY 365 South and no one was around it. The vehicle, a 2008 Chevrolet Malibu beige in color, was later reported stolen by the owner who lives in the area. This is still under investigation and charges are pending.
PAUL ERIC ROPER, 33-year-old, white male of 191 CR 227 Iuka, Mississippi has officially been charged with FELONY FLEEING from law enforcement. ROPER is currenlty awaiting bond to be set by Justice Court. However, ROPER has an ARREST WARRANT from Desoto County for a MISDEMEANOR OFFENSE and a ARREST WARRANT for the State of Arkansas for a FELONY PROBATION VIOLATION due to a previous FELONY drug charge.
Sheriff John Daugherty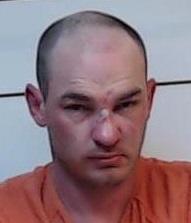 PAUL ERIC ROPER