ASSAULT LEADS TO ONE BEING STABBED AND ONE ARRESTED
** UPDATE **
August 3, 2016
On August 2, 2016, at approximately 0700 hours, the Tishomingo Sheriff's Department was dispatched to a residence at 125 CR 150 Iuka, Mississippi.
Once there on scene it was discovered that three people were involved in an altercation. The Victim was stabbed in the stomach and when this happened the Victim, who had a 9mm semi-automatic pistol in his hand, fired the weapon toward the ground which caused shrapnel to strike the other subject who was there with the Suspect, in the foot.
The Tishomingo Sheriff's Department immediately detained the one Suspect and transported him to the Tishomingo County Jail. The subject that was struck with shrapnel was transported to the NMMC – Iuka via ambulance. The Victim sustained non-life threatening injuries but did have to receive medical attention due to the wound. All weapons used were found and collected for evidence.
The Victim was later admitted to Magnolia Hospital in Corinth due to the injuries that he sustained during the assault. The other individual that sustained shrapnel to the foot was treated and released at NMMC – Iuka.
The Suspect, MARK LANDON CARPENTER, 49-year-old white male, of 117 CR 150 Iuka, Mississippi was officially charged with AGGRAVATED ASSAULT with DEADLY WEAPON. CARPENTER is currently in custody at the Tishomingo County Jail and has been given a $35,000.00 bond by Justice Court.
Sheriff John Daugherty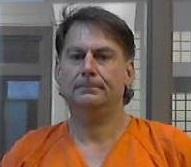 MARK CARPENTER