CORINTH MAN ARRESTED FOR HEROIN AND METH
June 17, 2019
On June 14, 2019, deputies for the Tishomingo County Sheriff's Office, have been working on a case, involving the transporting of narcotics that are coming into our area from neighboring states. Deputies were able to stop a vehicle on Pleasant Hill Road in the Iuka area, and using the departments new K9, the K9 alerted on the vehicle, which indicates that narcotics was inside that vehicle. Deputies then began a search of the vehicle and located a container under the hood of the vehicle. The container contained a large amount of alleged HEROIN, METHAMPHETAMINE, and numerous PRESCRIPTION PILLS. Deputies then arrested the driver of the vehicle and transported the driver to the Tishomingo County Jail.
BERNARD "BO" SHIPP, 44-year-old, white male, of 3201 North Polk Street Corinth, Mississippi was officially charged with FELONY POSSESSION OF CONTROLLED SUBSTANCE (HEROIN) and FELONY POSSESSION OF CONTROLLED SUBSTANCE (METHAMPHETAMINE). SHIPP's bond was set by the Tishomingo County Justice Court at $25,000. This case will be presented to the next available Grand Jury after further testing is conducted by the State Crime Lab on the drug evidence, especially with the prescription pills. Additional charges may be brought against SHIPP once this is concluded.
The Mississippi Bureau of Narcotics (MBN) assisted the Tishomingo County Sheriff's Office in this case as well.
Sheriff John Daugherty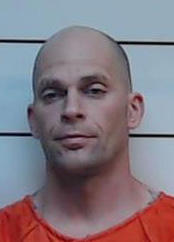 BERNARD "BO" SHIPP