IUKA MAN CHARGED WITH DRUGS AND FAIL TO REGISTER AS SEX OFFENDER
June 21, 2019
On June 18, 2019, Tishomingo County Sheriff's deputies went to a residence on CR 196 in reference to individuals having continuous drug activities reported and outstanding warrants. Deputies arrived and knocked on the door and several people ran through the house. One individual was captured as they were running out the back door and found to had an outstanding WARRANT for their arrest for the City of Iuka and another had fell through the floor, injuring their leg. Another individual was apprehended and found to have some alleged METHAMPHETAMINE on his person and more alleged METHAMPHETAMINE was found hidden under the floor in the bedroom. An ambulance was dispatched to the location and transported the individual that fell to the local hospital. The individual that had the alleged narcotics was arrested and transported to the Tishomingo County Jail.
JOHN DAVID SPARKS, 40-year-old, white male, of 2856 HWY 25 North Iuka, Mississippi was officially charged with FELONY POSSESSION OF CONTROLLED SUBSTANCE (METHAMPHETAMINE). It was discovered that SPARKS is also a REGISTERED SEX OFFENDER and SPARKS failed to provide his new address to local and state authorities. SPARKS was also charged with FAIL TO REGISTER – SEX OFFENDER. SPARKS remain in the custody of the Tishomingo County Jail awaiting bond to be set both charges.
Sheriff John Daugherty.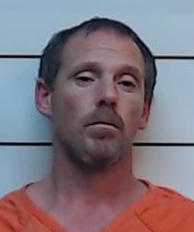 JOHN DAVID SPARKS