TWO BURGLARIZED HOMES LEADS TO AN ARREST
** UPDATE **
AUGUST 12, 2016: JOSHUA CRAIG RYAN HAS BEEN OFFICIALLY CHARGED WITH ONE COUNT OF 1ST DEGREE ARSON. THIS CHARGE CAME AFTER AN INVESTIGATION BETWEEN THE STATE FIRE MARSHAL OFFICE AND THE TISHOMINGO SHERIFF'S DEPARTMENT. BOND HAS BEEN SET ON THE 3 FELONY CHARGES AND THE 2 MISDEMEANOR CHARGES. JOSHUA CRAIG RYAN HAS BEEN GIVING A BOND OF $75,000.00.
RYAN ALSO HAS A "HOLD" PLACED ON HIM BY CIRCUIT COURT DUE TO HIS FAILURE TO PAY HIS RESTITUTION ON HIS PREVIOUS FELONY CHARGES. RYAN REMAINS IN CUSTODY AT THE TISHOMINGO COUNTY JAIL
August 8, 2016
In the early morning hours of August 8, 2016, the Tishomingo Sheriff's Department responded to a residence in the CR 241 area of Iuka. The homeowner informed law enforcement that a white male and gained entrance into her residence. The homeowner was able to give a good description of the intruder and law enforcement began looking for him. A short time later the alleged intruder was found in close proximity to a house on CR 989 also in the Iuka area, not far from the residence on CR 241.
The alleged intruder resisted arrest with the officers when the officers made contact with him. The alleged intruder was eventually arrested and had items on his person that belonged to the residence on CR 989. Also a search of the immediate area also yielded several more items that came from the residence on CR 989. Within a short time later, 911 dispatched the area fire departments to 111 CR 989 due to a house fire. This was the same residence that the alleged intruder came from. The area fire departments were able to put the fire out, and the residence sustained severe damage.
The alleged intruder, JOSHUA CRAIG RYAN, 34-year-old white male, formally of Iuka, Mississippi was arrested and charged with the following:
BURGLARY OF DWELLING (2 counts)
ARSON (1ST DEGREE)
FAIL TO COMPLY
RESISTING ARREST
HOLD PLACED BY CIRCUIT COURT FOR FAIL TO PAY RESTITUTION
RYAN is currently in custody at the Tishomingo County Jail awaiting bond to be set as well as more pending charges could be possible.
The State Fire Marshal arrived on scene to investigate the house fire and they will advise us on their findings.
Sheriff John Daugherty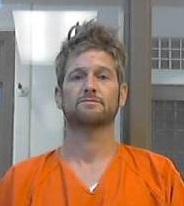 JOSHUA CRAIG RYAN