TRAFFIC STOP LEADS TO WEAPON CHARGES
July 29, 2019
On July 26, 2019, Tishomingo County Sheriff's deputies conducted a traffic stop on HWY 72 eastbound for improper lane usage. Deputies approached the driver and were able to speak to the driver. During the course of the traffic stop, deputies noticed the passenger in the vehicle and recognized the passenger as having an outstanding CAPIAS WARRANT and also for possible parole violations with the Mississippi Department of Corrections (MDOC). Deputies confirmed that the passenger was in fact a WANTED PERSON and had the passenger to step out of the vehicle. A search of the vehicle was then conducted and deputies were able to retrieve a weapon along with several types of drug paraphernalia found in the vehicle as well on the driver. Both the driver and the passenger were then transported to the Tishomingo County Jail.
BRANDON MICHAEL CARTER, 37-year-old, white male, of 800 West 2nd Street Apt #C Iuka, Mississippi was officially charged with POSSESSION OF FIREARM BY CONVICTED FELON. CARTER also had a CAPIAS WARRANT where he was recently indicted by a Grand Jury for POSSESSION OF METHAMPHETAMINE. CARTER's bond was set by the Tishomingo County Justice Court on his new FELONY charge in the amount of $10,000. CARTER's bond for his CAPIAS WARRANT was issued by the Grand Jury in the amount of $3,000.
CARTER also has a "hold" placed on him by the Mississippi Department of Corrections (MDOC). Further charges may also be pending in this matter as this case is still under investigation at this time.
Sheriff John Daugherty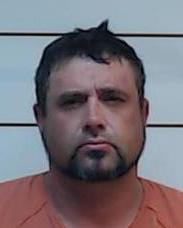 BRANDON MICHAEL CARTER