MBN AND SHERIFFS OFFICE MAKE ARREST
August 6, 2019
On August 5, 2019, Tishomingo County Sheriff's deputies went to a residence located at 586 CR 989 #15 in the Iuka area. Deputies were there to issue an ARREST WARRANT to a CHRISTOPHER WILCOX, due to an investigation that had been conducted by the Tishomingo County Sheriff's Office and the Mississippi Bureau of Narcotics. WILCOX was arrested without incident and was under investigation due to the SALE OF CONTROLLED SUBSTANCES. WILCOX was transported to the Tishomingo County Jail for process.
CHRISTOPHER WILCOX, 44-year-old, white male of #15 586 CR 989 Iuka, Mississippi was officially charged with SALE OF CONTROLLED SUBSTANCE. WILCOX's bond was set by the Tishomingo County Justice Court in the amount of $10,000. WILCOX is also currently on parole with the Mississippi Department of Corrections (MDOC) and the MDOC has placed a "hold" on him as well.
Sheriff Daugherty would like to thank the cooperation of the Mississippi Bureau of Narcotics in assisting the Tishomingo County Sheriff's Department.
Sheriff John Daugherty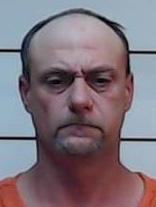 CHRISTOPHER WILCOX