TISHOMINGO WOMAN CHARGED WITH METH
September 19, 2019
On September 13, 2019, Tishomingo County Sheriff's deputies conducted an arrest on an individual for failing to appear in Tishomingo Circuit Court on a Felony charge. Deputies arrested the individual at the individual's residence in Tishomingo. Once at the jail with the individual, Correctional Officers noticed something hidden on the individual. The Correctional Officers attempted to retrieve the item from the individual and the individual begin to resist. Correctional Officers were able to restrain her and retrieve the item which turned out to be a container of alleged METHAMPHETAMINE. That individual was then charged with further crimes.
BRENDA HARRIS, 43-year-old, white female, of 1677 HWY 25 South Tishomingo, Mississippi was officially charged with FELONY POSSESSION OF CONTROLLED SUBSTANCE (METHAMPHETAMINE) and FELONY TAMPERING WITH EVIDENCE. HARRIS' bond was set by the Tishomingo County Justice Court at $5,000.
HARRIS also had an outstanding ALIAS CAPIAS for her arrest from Circuit Court on a previous FELONY DRUG CHARGE and is also currently on probation with the Mississippi Department of Corrections (MDOC). HARRIS is to be held WITHOUT BOND on her ALIAS CAPIAS until the next term of court.
Sheriff John Daugherty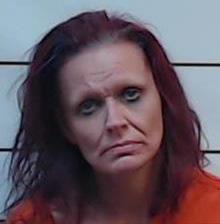 BRENDA HARRIS