JOINT ARREST LEADS TO DRUG ARREST
October 14, 2019
On October 13, 2019, Patrol Officers for the Iuka Police Department conducted a traffic stop on a vehicle on HWY 25 due to the driver of the vehicle being known to having an outstanding ARREST WARRANT issued by the Tishomingo County Sheriff's Office. During the traffic stop, Iuka Police Department were assisted by deputies from the sheriff's office. During the arrest of the driver, the driver was found to have a large amount of alleged METHAMPHETAMINE in his pocket. The driver was immediately placed under arrested and transported to the Tishomingo County Jail. A Search Warrant was then issued on the driver's residence located on CR 192, just outside the city limits of Iuka. There, deputies and investigators found several items used to package and weigh narcotics.
DANIEL SCOTT DARLING, 31-year-old, white male, of 25 CR 192 Iuka, Mississippi was officially charged by Iuka Police for FELONY POSSESSION OF CONTROLLED SUBSTANCE (METHAMPHETAMINE) W/INTENT TO SELL. DARLING's bond was set by the City of Iuka at $15,000. Also, DARLING had a misdemeanor JUSTICE COURT WARRANT bond in the amount of $815.00.
DARLING is currently out on FELONY BOND in the State of Alabama and Tishomingo County. This is another example of local law enforcement agencies working together to help protect the citizens of Tishomingo and surrounding areas.
This case is still under investigation and more charges could be forthcoming.
Sheriff John Daugherty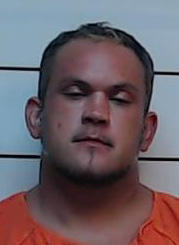 DANIEL DARLING