TENNESSEE MAN CHARGED WITH FELONY DRUGS
January 30, 2020
On January 27, 2020, Tishomingo County Sheriff deputies went to a residence on Martha Lane in Iuka to serve an ARREST WARRANT on a female who lives at the residence. As the deputies arrived, they confronted the female and a male at the residence. The female was detained and arrested for the outstanding WARRANT. Deputies then began checking on the male and learned that the male was currently on FELONY PROBATION from the state of Tennessee for previous drug and burglary convictions. Deputies were able to get consent to search the vehicle of the male and found a bag of alleged METHAMPHETAMINE in the vehicle. The male was then arrested and both were transported to the Tishomingo County Jail.
JASON LODES, 44-year-old, 659 Walker Road Jackson, Tennessee was officially charged with POSSESSION OF CONTROLLED SUBSTANCE (METHAMPHETAMINE). LODES' bond was set by the Tishomingo County Justice Court at $5,000.
Also, the female was charged with RESISTING ARREST in relation to the arrest of LODES.
Sheriff John Daugherty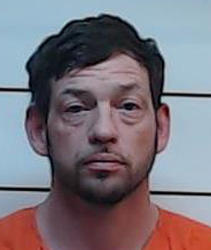 JASON LODES