ARREST MADE IN A VIOLENT DOMESTIC INCIDENT
**UPDATE**
July 2, 2020
The Tishomingo County Sheriff's Office announces that FELIX GONZALO PEREZ-CARRILLO has been extradited back to Tishomingo County from Crittenden County Jail in West Memphis, Arkansas, where he was being held on ARRESTS WARRANTS from the Tishomingo County Sheriff's Office. Investigators state that evidence at the scene suggests that this was a violent attack on the Victim and family.
FELIX GONZALO PEREZ-CARRILLO, 28-year old, Hispanic male of 400 5th Street Iuka, MS was officially charged with BURGLARY OF DWELLING and AGGRAVATED ASSAULT WITH EXTREME INDIFFERENCE TO HUMAN LIFE. PEREZ-CARRILLO's bond was set by the Tishomingo County Justice Court at $250,000.
This case still remains under investigation and more charges may be pending. This case will be presented to the next available Grand Jury.
Sheriff John Daugherty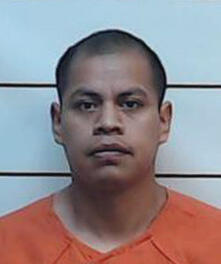 FELIX G. PEREZ-CARRILLO
---
IMMEDIATE RELEASE
June 29, 2020
On June 28, 2020 in the early morning hours, the Tishomingo County Sheriff's Office received a 911 call of a STABBING that had occurred at a residence located on CR 246. Deputies arrived on scene and met with the Victim, who was conscious, and according to the responding officers, needed immediate medical attention. The Victim appeared to have several alleged stab wounds to the upper torso area and head. The Victim was able to inform the deputies of the alleged attacker, who was a prior boyfriend of the Suspect. The alleged Suspect had left the scene before the deputies arrived. The Victim was taken to a local hospital and treated and was released for her injuries.
Deputies on scene were able to collect several pieces of evidence to the ASSAULT and Investigators were able to locate the alleged Suspect several hours later in the West Memphis, Arkansas area. An ARREST WARRANT had been issued for the alleged Suspect and was arrested and detained due to the ARREST WARRANT by the West Memphis Police Department. The alleged Suspect will be transported at a later date back to Tishomingo County Jail and will formally be charged.
This is still an open investigation and more charges may be pending.
Sheriff John Daugherty