TRAFFIC STOP LEADS TO LARGE SCALE DRUG ARREST
July 20, 2020
On July 17, 2020, Tishomingo County Sheriff's deputies conducted a traffic stop on a vehicle for traffic violations. During the stop, the deputies checked the license of the driver and was informed that the driver had suspended driver's license. At this time, the driver was placed under arrest and a search of the vehicle turned up approximately 5 ounces of alleged METHAMPHETAMINE, with a street value of $5,000, which was found under the hood of the vehicle. At this time, the Tishomingo County Sheriff's Office as well as the Mississippi Bureau of Narcotics are conducting a further investigation into the matter. The driver was then transported to the Tishomingo County Jail.
JOSHUA WADE HODGES, a 37-year-old Native American, of 475 Leslie Avenue Tuscumbia, Alabama was officially charged with FELONY TRAFFICKING OF NARCOTICS (METHAMPHETAMINE). Tishomingo County Justice Court set the bond on HODGES in the amount of $20,000 for the FELONY as well as other misdemeanor charges.
The Tishomingo County Sheriff's Office also received assistance from the Belmont Police Department. This case is currently under investigation and further arrests may be pending.
Sheriff John Daugherty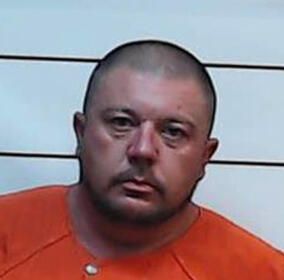 JOSHUA W. HODGES