IUKA WOMAN ARRESTED FOR INTRODUCTION OF NAROCTICS TO CORRECTIONAL FACILITY
September 25, 2020
On September 22, 2020, Tishomingo County Sheriffs Narcotic Investigators, conducted a traffic stop on HWY 72 East, in reference to an ongoing criminal investigation. During the traffic stop, investigators found drug paraphernalia throughout the vehicle and place the two occupants of the vehicle into custody. Once transported to the jail, the female occupant attempted to hide alleged used drug needles in her shirt. Correctional Officers were able to retrieve the items and the female then attempted to hide a large amount of alleged METHAMPHETAMINE as well as other alleged drug(s) that will have to identified by the Mississippi Crime Laboratory.
AMANDA ROSE (HARE) SMITH, 39-year-old, white female of Iuka, Mississippi was officially charged with the following: POSSESSION OF CONTROLLED SUBSTANCE (METHAMPHETAMINE) W/INTENT TO SELL, FELONY TAMPERING WITH EVIDENCE, and INTRODUCTION OF CONTRABAND (NARCOTICS) INTO A CORRECTIONAL FACILITY (2 counts).
Tishomingo County Justice Court issued the FELONY bond in the amount of $50,000. This case will be presented to the next available Grand Jury.
Sheriff John Daugherty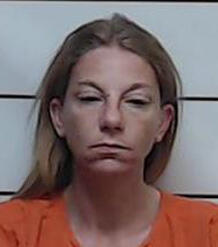 AMANDA ROSE SMITH