SERVING OF CAPIAS WARRANT LEADS TO MORE CHARGES
August 31, 2016
On August 29, 2016 Tishomingo Sheriff Deputies conducted a traffic stop on a four-wheeler driving down a county road just outside the Town of Tishomingo, Mississippi corporate limits. Once the four-wheeler was stopped, the driver was discovered to have a CAPIAS WARRANT for his ARREST for the SELL OF METHAMPHETAMINE. The driver, RANDY TURNER, was placed under arrest and a SEARCH was conducted on TURNER, which lead to the discovery of more alleged METHAMPHETAMINE, paraphernalia, and Marijuana, as well as a firearm.
A SEARCH WARRANT was then issued for the residence of RANY TURNER, which lead to the deputies finding more drug paraphernalia along with evidence and documentation indicating that TURNER had been selling drugs. Numerous drugs and a four-wheeler was seized from the property.
RANDY TURNER , 49-year-old white male, of 80 CR 118 Tishomingo, Mississippi is charged with FELONY SELLING OF CONTROLLED SUBSTANCE, POSSESSION OF MARIJUANA, POSSESSION OF DRUG PARAPHERNALIA, and DRIVING WITH LICENSE SUSPENDED. TURNER has a bond set on his CAPIAS WARRANT for $10,000.00. TURNER is awaiting bond on other charges and is currently in custody of the TISHOMINGO COUNTY JAIL.
Sheriff John Daugherty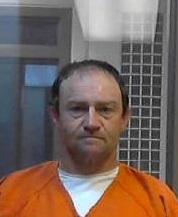 RANDY TURNER