TRAFFIC STOP LEADS TO WEAPON CHARGES
October 12, 2020
On October 7, 2020, Tishomingo County Deputies along with the Mississippi Highway Patrol (MHP) conducted a traffic stop for moving violations on CR 321. During the stop, officers determined that the driver of the vehicle had a CAPIAS WARRANT for his arrest due to a recent indictment by the Grand Jury. Also, officers recovered a firearm from the driver, which was being worn at the time of the stop. Officers later discovered that the driver of the vehicle had recently pled GUILTY to a FELONY drug charge in Alabama. Both the driver and passenger were then transported to the Tishomingo County Jail.
DANIEL SCOTT DARLING, 32-year-old, white male of 919 Carolyn Street Tuscumbia, Alabama was officially charged with POSSESSION OF A WEAPON BY CONVICTED FELON. DARLING was also served his CAPIAS from the Grand Jury for AGGRAVATED ASSAULT (DOMESTIC VIOLENCE). The Tishomingo County Justice Court issued a $5,000 FELONY bond on the new charge. The Circuit Court bond of $40,000 was issued in the indictment by the Grand Jury.
The District Attorney's Office in Colbert County, Alabama has also issued a hold on DARLING pending review of violating his terms of probation due to his recent FELONY plea agreement.
Sheriff John Daugherty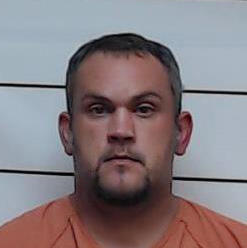 DANIEL DARLING