ARREST WARRANT LEADS TO FELONY DRUG ARREST
October 12, 2020
On October 9, 2020, Tishomingo County Deputies went to a residence on CR 112 in reference to a CAPIAS WARRANT for the homeowner of the residence. While deputies were serving the warrant, a bag of alleged METHAMPHETAMINE was found on the arrested homeowner. The homeowner was then transported to the Tishomingo County Jail.
JOSEPH ALLEN TIDWELL, 47-year-old, white male of 102 CR 112, was officially charged with POSSESSION OF CONTROLLED SUBSTANCE (METHAMPHETAMINE) as well as being indicated by the Grand Jury for the charge of 1st DEGREE ARSON. The Tishomingo County Justice Court issued a FELONY bond in the amount of $5,000 for the new charge. The Circuit Court bond of $40,000 was issued in the indictment by the Grand Jury.
TIDWELL also PLED GUILTY prior to a BURGLARY OF COMMERCIAL BUILDING.
Sheriff John Daugherty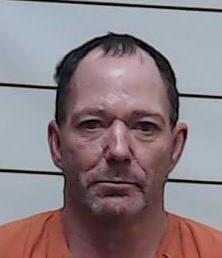 JOSEPH TIDWELL