PURSUIT LEADS TO ARREST OF ALABAMA MAN
March 8, 2021
On March 4, 2021, Tishomingo County Sheriff's deputies assisted the Tuscumbia, Alabama Police Department in attempting to apprehend a possible stolen vehicle that had entered Tishomingo County, heading westbound on US HWY 72. While attempting to flee from law enforcement, the alleged Suspect entered the Tishomingo County High School and came back out on US HWY 72, and law enforcement began attempting to "box" the vehicle in to end the pursuit. The alleged Suspect then used his vehicle and struck the patrol units of both the Tishomingo County Sheriff's Office and the Tuscumbia Police Department.
The alleged Suspect's vehicle then became disabled and law enforcement was able to take the alleged Suspect into custody. During this time, law enforcement closed the right-side lane of the highway while conducting an initial investigation of the pursuit. The Mississippi Safety Highway Patrol (MHP) and the Mississippi Bureau of Investigations (MBI) was notified and assisted in the investigation. A total of four (4) law enforcement vehicles were damaged, due to the actions of the alleged Suspect. The alleged Suspect was then transported to the Tishomingo County Jail awaiting charges.
MARKUS WAYNE FIELDS, 35-year-old, of 6273 Florence, Alabama was officially charged with: FELONY FLEEING, AGGRAVATED ASSAULT ON LAW ENFORCEMENT (x2). Tishomingo County Justice Court Judge, Seth Adams, set a bond in the amount of $200,000 on FIELDS. FIELDS was also charged with several misdemeanor violations from the MHP. FIELDS also has a hold placed on him by the Tuscumbia Police Department, where he could possibly face more charges.
The Tishomingo County Sheriff's Office and the Mississippi Bureau of Investigation are still investigating this incident.
Sheriff John Daugherty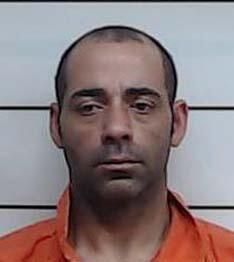 MARKUS WAYNE FIELDS