ARREST MADE IN RAPE CASE
November 10, 2016
On November 9, 2016, the Tishomingo Sheriff's Department was able to serve a CAPIAS WARRANT on GEORGE VERLON HAWKINS, who was recently indicted for SEXUAL BATTERY. The indictment steams from a report that was filed with the Tishomingo Sheriff's Department back in October 2015.
In the report, HAWKINS was accused of RAPING a 16-year-old female, who lived at the same residence as HAWKINS at that time. The 16-year-old Victim, was carried to the hospital by family members where a RAPE KIT was performed for evidence. HAWKINS was later interviewed by investigators for the Tishomingo Sheriff's Department in February of this year and was able to obtain a DNA sample from HAWKINS during that meeting.
All evidence was immediately submitted to the Mississippi Crime Laboratory and once the DNA results came back, the case was immediately presented to the next available Grand Jury in Tishomingo County. HAWKINS was indicted by that Grand Jury but HAWKINS was unable to be found due to moving out of state to the Muscle Shoals, Alabama area. Due to this development, HAWKINS was entered into the National Crime Information Center (NCIC) as a WANTED PERSON.
HAWKINS was arrested yesterday, November 9, 2016 by deputies with the Colbert County Sheriff's Department on HWY 247, adjacent to the Franklin County, Alabama line. HAWKINS waived his extradition and was then physically brought back to the State of Mississippi where he was officially served with the FELONY charge of SEXUAL BATTERY.
GEORGE VERLON HAWKINS, 38-year-old white male, of Green Acres Trailer Park, Muscle Shoals, Alabama was officially charged / served with FELONY SEXUAL BATTERY. HAWKINS bond had already been set by the Tishomingo County Grand Jury at $20,000.00
Sheriff John Daugherty states that the Victim, who is now 18-years-old, and the Victim's family have been informed of HAWKINS arrest and are ecstatic that HAWKINS has been charged. Sheriff Daugherty also stated that crimes against children WILL NOT be tolerated in Tishomingo County. GEORGE VERLON HAWKINS remains in custody at the Tishomingo County Jail.
Sheriff John Daugherty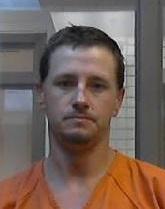 GEORGE HAWKINS