TISHOMINGO DEPUTIES AND BURNSVILLE POLICE MAKE FELONY ARREST
November 23, 2016
On November 22, 2016, Tishomingo Sheriff Deputies assisted the Burnsville Police Department with checking a vehicle at an apartment complex due to suspicious activity. While law enforcement was speaking to the occupants of the vehicle, two more people came out of the apartment and walked toward the vehicle that law enforcement was at. The officers checked any outstanding WARRANTS on all the individuals and found that at least two of them had outstanding WARRANTS for their arrest.
One of the outstanding WARRANTS, was a FELONY CAPIAS WARRANT for POSSESSION OF CONTROLLED SUBSTANCE. The CAPIAS was on one of the individuals that was there, AMY DENISE HARDIN. While HARDIN was being arrested for the FELONY CAPIAS, a search of her person yielded some drug paraphernalia found in her purse as well as some prescription medication. Once HARDIN was handcuffed and placed in the backseat of the patrol car, HARDIN is accused of getting out of the handcuffs and ingesting the prescription medication and throwing a pipe used to inhale drugs, out of the vehicle. Law Enforcement immediately had medical personnel come to the scene and check to see if HARDIN was alright. The medical personnel informed the deputies that HARDIN appeared to be fine and at that point, HARDIN was transported to the Tishomingo County Jail.
AMY DENISE HARDIN, 36-year-old white female, of 1000 North Pearl Street Iuka, Mississippi was officially charged with FELONY TAMPERING WITH EVIDENCE, POSSESSION OF PARAPHENALIA, and also was served the FELONY CAPIAS for POSSESSION OF CONTROLLED SUBSTANCE. HARDIN remains in custody at the Tishomingo County Jail awaiting bond to be set.
Sheriff John Daugherty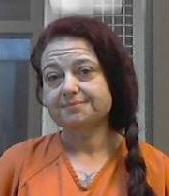 AMY DENISE HARDIN