STEALING POWER LEADS TO DRUG ARREST
December 9, 2016
On December 6, 2016, Tishomingo Sheriff Deputies responded to a complaint of someone "stealing power" from another apartment. Deputies arrived at 28 Jefferson Street in Burnsville, Mississippi and spoke with one of the occupants of the residence. The deputies observed some drug paraphernalia all in the apartment and asked the occupant for Consent to Search. The occupant granted the consent to the search and while the Tishomingo Sheriff's Department was conducting a search, agents from the Mississippi Bureau of Narcotics were also in the area and assisted the Tishomingo Sheriff's Department.
Deputies and Agents located and found some alleged METHAMPHETAMINE and more drug paraphernalia throughout the residence. The occupant was then arrested and transported to the Tishomingo County Jail.
RAMONA CROSBY, 37-year-old, white female, 28 Jefferson Street Burnsville, Mississippi was officially charged with FELONY POSSESSION OF CONTROLLED SUBSTANCE (METHAMPHETAMINE). CROSBY's bond was set by Justice Court at $5,000.00. This case remains under investigation and more arrest(s) and charges may be forthcoming.
Sheriff John Daugherty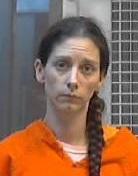 RAMONA CROSBY