ANOTHER TRAFFIC STOP LEADS TO A DRUG ARREST
January 12, 2017
On January 11, 2017, Tishomingo Sheriff Deputies conducted a traffic stop on Jefferson Street in Burnsville for careless driving. During the course of the traffic stop, officers learned that a passenger in the vehicle, had an OUTSTANDING MISDEMEANOR ARREST WARRANT, and was immediately arrested. The deputies believed that both the driver and the passenger were under the influence of some type of narcotic and the deputies then asked the driver for Permission to Search of the vehicle and was given permission by the driver. The deputies found a small amount of alleged METHAMPHETAMINE both in the vehicle and also on the driver as well as other paraphernalia. The driver was then arrested and placed in custody. Both the driver and passenger were transported by Tishomingo Sheriff's Department and the Burnsville Police Department. Once at the jail, the Corrections Officer, located some more alleged METHAMPHETAMINE that was found hidden on the driver as he was brought into the jail.
MARK ANTHONY MATHIS, 42-year-old, white male, of 207 McGee Loop, Jackson, Tennessee was officially charged with FELONY INTRODUCTION OF NARCOTICS INTO A CORRECTIONAL FACILITY. MATHIS is still in custody at the Tishomingo County Jail awaiting his bond to be set by Justice Court. MATHIS was recently arrested back on December 28, 2016 for POSSESSION OF CONTROLLED SUBSTANCES (METHAMPHETAMINE & COCAINE), and is also currently out on a FELONY bond for those charges.
Tishomingo Sheriff's Department would like to thank the Burnsville Police Department with their assistance in this arrest.
Sheriff John Daugherty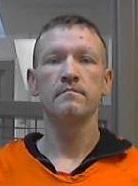 MARK ANTHONY MATHIS